By Edwin C. Bridges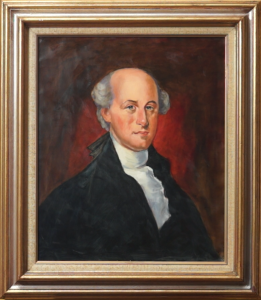 George Walton was born in Virginia in late 1749 (possibly early 1750). His father died within a few months of his birth, and his mother died before he was seven. He was reared by his uncle, also named George Walton, of Prince Edward County, Virginia. At the age of fifteen, young Walton apprenticed himself to a builder Christopher Ford, with whom he worked for several years. At the age of nineteen, after having terminated his apprenticeship, Walton traveled to Savannah to begin a new career.
Walton's older brother John had already come to Georgia and had established himself in Augusta. George Walton was able to obtain a position in the office of Henry Yonge, Jr., a Savannah attorney, and studied law under Yonge's tutelage. In 1773, Walton took the oath of allegiance to the king which was required for an attorney to practice law in the colony. In two years be built for himself one of the most successful legal practices in Georgia.
As friction between America and Britain grew more intense, George Walton became one of the leading activists in Georgia. He was on the colony's first Council of Safety and soon became its secretary; then president. In February 1776, Walton was appointed to the Continental Congress. Because of his position in the state militia, he was delayed in leaving Georgia, but finally arrived in Philadelphia in late June 1776, only a few days before the formal approval of the Declaration of Independence on July 4. At the age of twenty-six Walton was the youngest man to sign the Declaration of Independence.
Walton continued to serve in the Continental Congress for another sixteen months before returning to Georgia in late 1777. Upon his return to Savannah, Walton resumed his position in the state militia and an active role in state government. In September 1778, at the age of twenty-eight, he married a young woman named Dorothy Camber.
In November of that year, only two months after Walton's marriage, the British launched a new invasion of Georgia. Because Walton was the senior colonel in the state's militia, he became the acting commander of the state militia forces. When the British assault on Savannah began in late December 1778, Walton's men were located at the critical point of attack. The raw militiamen were overwhelmed by the vastly superior British forces, and Walton was severely wounded in the action. The conquering British took Walton captive as they swept through Savannah, but fortunately for Walton he received humane and skilled care for his wound from the British surgeons. He was later sent on to Sunbury where he was held prisoner with other captured Americans.
When Walton was finally exchanged in October 1779, Savannah which had been the seat of state government, was still in the hands of the British. Walton traveled to Augusta where he joined a small group of Whigs who were trying to reorganize a state government in order to continue to resist the British. The new assembly elected Walton governor and then later reappointed him to the Continental Congress. Walton's role in this government involved him in a bitter controversy with Lachlan McIntosh that became one of the important points of Walton's public career.
When the British were finally driven from Georgia in 1782, Walton returned to Savannah to try to rebuild his personal financial position, which had been deeply eroded by the demands and the destruction of the war. The economy of Georgia and of all American states continued to be severely depressed during the 1780s, and Walton, even though he was elected Chief Justice of Georgia by the General Assembly, was not able to reestablish a secure financial footing in Savannah. By the mid-1780s, he began gradually to divest himself of his property there and to prepare to relocate his family in Richmond County. Augusta was then the capital of the state, and Walton moved to a farm to the south of town at "New Savannah." Walton was elected Governor again in 1789.
In June 1791, Walton acquired two adjacent lots of approximately fifty acres each in Augusta Township, and it appears that he was living on the property by early 1792. By 1793, he was identifying himself by the name of his new home, "George Walton of Meadow Garden." Because his financial troubles never fully abated and because he needed to insure that his family would not be deprived of their home, Walton never listed the property in his own name. Instead he had it listed first in the name of his nephew, Thomas Watkins, and then later held in trust by John Habersham and Anderson Watkins for his son, George Walton.
Despite the fact that the property was never formally listed in his own name, there is no doubt that "Meadow Garden" was the home of George Walton. His letters throughout the 1790s and until his death in 1804 are continually headed "Meadow Garden." When Walton was appointed to the Unites States Senate in 1795-6, he wrote back home to his wife with advice to her about how to manage Meadow Garden. When he died, his funeral procession began at Meadow Garden.
Most of Walton's public service during the 1790s and early 1800s was consumed by his duties as a judge of one of the state's three superior court circuits. George and Dorothy Walton also reared two sons, one of whom, Thomas Camber Walton, died in December 1803- only a short while after he had been admitted to the practice of law in Georgia. George Walton was reported to have been severely shaken by the tragedy, and his own death followed that of his son only two months later, on February 2, 1804.
The Augusta Chronicle carried a full account at the death and of the funeral. Walton's body was carried from Meadow Garden to a family cemetery on the plantation of one of his nephews. His body was later disinterred and taken to be buried at the Signers' Monument in Augusta. Meadow Garden passed from the ownership of Walton's surviving son, George, in 1812.
Dr. Edwin C. Bridges is a former Archivist for the State of Alabama. His doctoral dissertation (University of Chicago) was a biographical study of George Walton.