Meet – Maranda Christy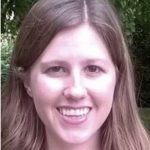 The Georgia State Society, NSDAR is delighted to welcome Maranda Christy as our Meadow Garden Director/Curator, replacing John McBrayer who retired late last year.
Maranda comes to us highly qualified and experienced. She earned a Bachelor of the Arts degree in both English and Political Science from the College of Charleston in Charleston, SC; and she earned a Master of Arts degree in Cultural Heritage Studies from University College London (UCL) in London, UK.
In the past she volunteered as a museum intern at the Barnwell County Museum in Barnwell, SC where she catalogued artifacts using PastPerfect and gave tours of the Fuller House to school children and tourists. She utilized her research, marketing and organizational skills to assist with exhibitions and other events. She is knowledgeable about the Museum National Registration process and has participated in notable events, including a Revolutionary War exhibition (which included items loaned from the South Carolina State Museum).
Maranda has great computer skills and is talented in writing, editing, research, cataloging, digital media, and archival research/processing/preservation.
Please take time to visit Meadow Garden and welcome Maranda as our Director/Curator!