Slaves of George and Dorothy Walton
When the George Walton, Jr. family left Georgia to move to Florida, they took with them 27 slaves.  Many of the slaves that lived at Meadow Garden were inherited but others purchased.  George Walton, Sr. inherited slaves when his father died.  They were placed in the care of his caretaker uncle until he became an adult.    Dorothy Camber also inherited slaves.  George Sr. and Jr. bought and sold slaves.  Dorothy bought slaves.  Here are some of the slave names listed:
Names of some of the Walton slaves from the Richmond County Archives:
George Walton, Sr. sold a slave May 9, 1798 named Harry for $250.
June 1804, to settle the debt of George Walton the following slaves were sold and then bought back by Dorothy Walton:  Jacob, Renah, Johnny, Adelade, Caroline, little Bob, Saunders, Sylvia, Nancy, Newberry, Chloe, Charles, Rosella, Charlotte, and Robert.
1809 – Slaves purchased by George Walton, Jr., purchased in Richmond, Va.:  Samuel, Cissy, Dorsey, Tener, Reuta, Saul, Jim, Quan, young Abraham, Nancy, Hager, Phoebe, Toby, Sam, Granock, William.
We do not know what jobs they performed, one can only imagine.  We do have a record of the favorite house slaves as documented by Octavia Walton La Vert later in her memoirs recorded in Madame Le Vert by Frances Gibson Satterfield
They are:
Cloe the Slave
A member of the Walton/LaVert household who greatly impressed Lady Emmeline was Cloe, the aged slave who had belonged to Octavia's grandmother, Dorothy Walton.  Cloe had been nursemaid to Thomas and George, Jr., and years later the loved and retired Mammy in Octavia's household.  Lady Emmeline included Cloe in her book of travel in America, even attempting to imitate her dialect:
"One of Madame Le Vert's slaves is a capital old woman and apparently quite an original – 'que ne se desoriginal isera pas.".  I should think now, as she must be hard upon a hundred.  She perfectly remembers Washington, having seen him once driving out in a carriage on some great occasion full dress (his visit to Augusta in 1791).  "E mighty fine man as ebber I seen, his head berry white (powder probably), he sit up so in de carriage, straightening his self and looking dignified with all his might, jist like so; and old Massa (Octavia's grandfather, George Walton) he in same carriage, dressed up fine too…I member all berry well… I ran out of the house and left it, just berry little while, cause eberry body say, Go see General Washington, and almost pushy me out for to go see him…"  She gave us all this information in the most elated tones, a speaking trumpet voice.  She had a white turban on, which showed off her jetty ancient countenance very picturesquely. P. 93-94
Cloe was with Dorothy Camber Walton when they were captured by the British. Cloe, her son Charles and a woman named Clarisa were three of Dorothy's slaves also taken to the West Indies. P 94
Cloe died at close to a hundred years.  She had an excellent memory and was responsible for many of the family legends passed on to "her children" and repeated by Octavia and Diddie, some of which were exaggerated with the passage of time.  Cloe began training her great-granddaughter, Betsy, as a maid for Mrs. Dorothy Walton when she was a child.  After Mrs. Walton's death in 1832, she wired Mrs. Sally Walton, then Octavia. P. 95
When Cloe died and her brother died within a week of each other, the family felt as if two of their own kin had died.  "Their ancestors belonged to ours, near two hundred years ago, and our attachment to those slaves is far different from the usual relations between mistresses and servant." Octavia, p. 95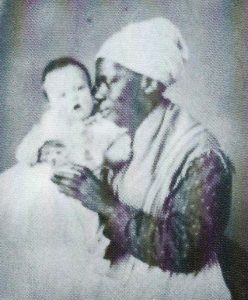 Betsy, the slave
A handsome, clever mulatto, Betsy was the best friend Octavia ever had.  Their relationship grew with the years.  Each found a sympathetic ear in the other and they exchanged confidences.  As Betsy dressed Madame La Vert's hair each morning, she would teach her Spanish or read aloud to her.  Betsy was devoted to her mistress, sharing her loss of Robert, Claudia and Sally. P. 95
Miss Bremer was also surprised at the relationship between Madame La Vert and Betsy.  "Betsy seems really not to live for anything else than for her Mistress Octavia; to dress her hair every day a la Mary Stuart, and to see her handsome, gay, and admired, that is Betsy's life and happiness…" p. 102
Betsy, who spoke Spanish fluently by then, was traveling with them, for Octavia could not dispense with her, and Betsy felt no one else could take care of her mistress. She managed all of the details of the journey.  A friend of Octavia later wrote, "North, South, East, West – through twisting ranks of Abolitionists, up the Rhine, over the Alps – everywhere goes Betsy." p 103
"The family relation was beautifully exemplified in the home of the Walton's. Frequently grandmother, mother and granddaughter attended the same parties and danced in the same quadrilles. And always she was dressed for these occasions by the loving hands of her slave, Betsy, who together with all other slaves begged to remain with her after their emancipation following the War Between the States.
Item 4: I bequeath unto BETSY WALTON LAMAR all my wearing apparel, trunks, bed and table linens, and cutlery, furniture, and sewing machine, and the possession of these articles shall be delivered to her immediately upon my death. Octavia's will.